--- The images of Stonehenge they don't want you to see ---
Découverte ce jour de ce site magnifique, via Universe Inside You Channel.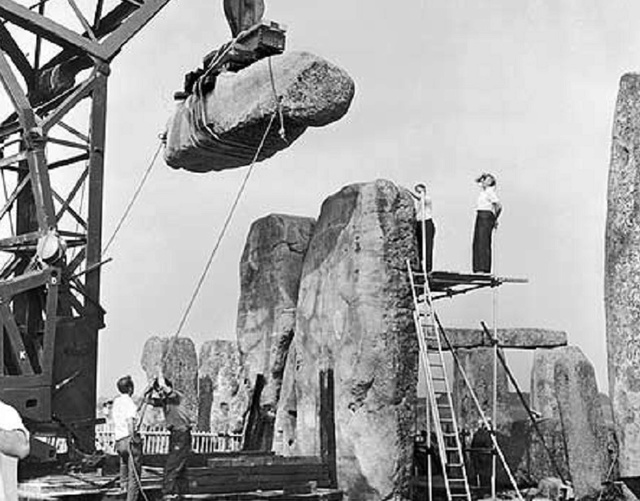 Stonehenge, an ancient monument that attracts millions of tourists a year holds many secrets. One of the lesser known is that the standing stones we see today, in fact date back less than 50 years, as a result of numerous restorations that have taken place for over 100 years.
According to what we have known for quite some time know, the incredible stone complex in Wiltshire, England was built according to archaeologists and studies somewhere from 3000 BC to 2000 BC. Radiocarbon dating in 2008 suggested that the first stones were raised between 2400 and 2200 BC, whilst another theory suggests that bluestones may have been raised at the site as early as 3000 BC.
According to a new study by archaeologists and geologists from the University College London (UCL) the stones of Stonehenge originated in the Preseli Hills, Pembrokeshire, 225 kilometers from one of the most enigmatic ancient monuments on the Planet: Stonehenge.
Even though researchers believed the stones originated from the Preseli Hills since about 1920, they never knew the exact location from where the stones were quarried from. Adding to the mystery of how ancient mankind managed to transport the boulders, researchers are questioning the age of the monument. Ancient people quarried the stones sometime between 3400 BC and 3200 BC, while the monument was constructed, according to mainstream scholars around 2900 BC, this means that the ancient monument could be in fact 500 years older than previously thought.
To be continued here :
https://www.ancient-code.com/the-images-stonehenge-dont-want-see/?subscribe=success#blog_subscription-10
Nunti-Sunya,
Et,
Adonai de la Source Première.

_________________
Vers l'Infini et au-delà... https://twitter.com/WhatAboutSoul